The Rogue Shanty Buoys are a professional Sea Shanties folk group available for events, weddings and festivals across the UK, singing Sea Shanties and modern "shantyfied" covers.
The group are based (and home-brewed) in rural Suffolk…
…singing Sea Shanties with an unmistakably bold and original sound and an emphasis on strong vocals, tight harmonies and unfussy arrangements, giving fun and energetic performances with a fresh and dynamic approach to folk music that has seen them described as "A slightly salty Mumford & Sons".
With a hugely diverse repertoire, ranging from the Middle Ages to the present day, The Rogue Shanty Buoys are as at home singing rousing traditional sea shanties such as 'The Wellerman', 'Drunken Sailor' and many more, whaling arias and tunes of ne'er-do-wells as they are covering contemporary songs and '90s classics by the likes of The Spice Girls, Bruno Mars, Britney Spears and others performed with their own unique "shanty" twist.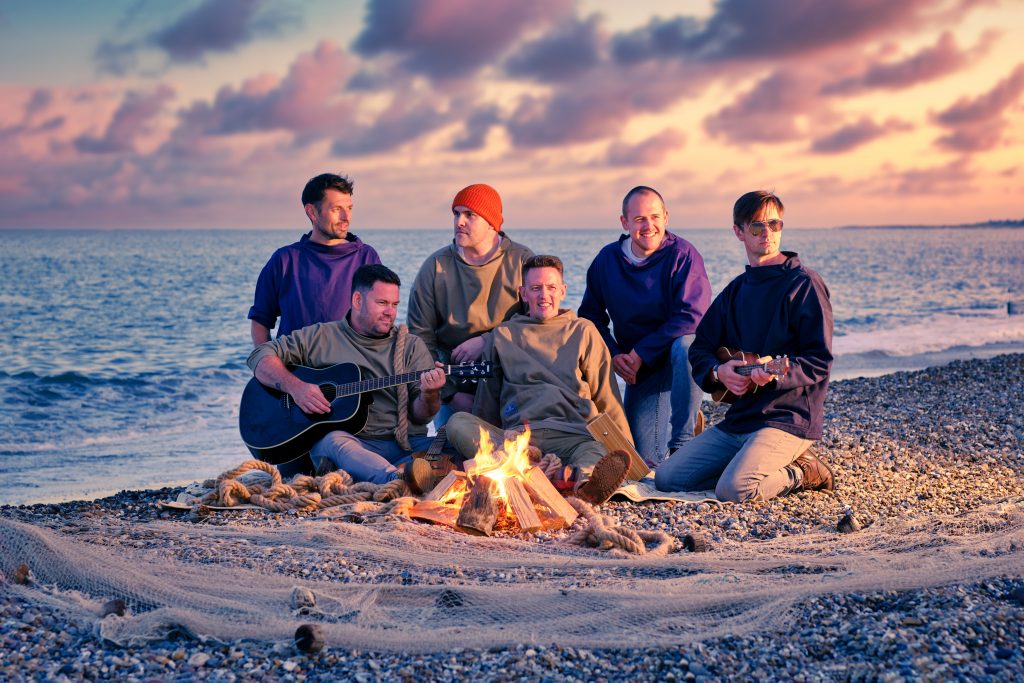 Fast making a name for themselves…
…following their formation in Summer 2017, the group have appeared at such events as The Shrewsbury Folk Festival, FolkEast, First Light Festival, The Harwich International Shanty Festival, The Ely Folk Festival and The Great Yarmouth Maritime Festival among many other maritime weekends, festivals, folk clubs, rallies, weddings, corporate events and performances overseas.
The group have garnered praise from the likes of Paul Gambaccini and Michael Buerk who said "I really don't want to leave now. Just sit here listening to you guys!" and have performed for the likes of Olly Murs, Arnold Schwarzenegger, Jeremy Vine and The Queen among others, on TV and radio and at some of the UK's most prestigious venues.
In the Summer of 2021, the group were delighted to be the featured resident guest entertainers aboard P&O cruises, being the first ever guest group to sing on P&O Iona's maiden voyage (the largest cruise ship ever built in the U.K. and the sixth largest ship in the world!).
2023 sees the popularity of the group increase with performances across the UK and further afield, bringing life to events at such prestigious venues as Hampton Court Palace, Chatham Historic Dockyard and The Cutty Sark, amongst many others across the UK.
The Rogue Shanty Buoys are also delighted and proud to be officially endorsed by Blackshore, sharing a mutual pride in the county of Suffolk and, equally, the love of crafting something unique and unrivalled.
Click on the following links to:
Like the Buoys on Facebook
Get in touch
Watch videos of the Buoys in action!
Buy their album on iTunes and Amazon