STATEMENT: 06/09/20
We were delighted by the recent update from the DCMS (Department for Digital, Culture, Media and Sport) which stated that non-professionals can now engage in all performing arts activities, including singing, wind and brass.
As a result of that announcement and because The Seagull Theatre is a COVID-secure venue, we plan to restart physical (COVID-compliant) rehearsals for The Rogues Shanty Chorus from 13th October!
There will be a STRICT MAXIMUM of 24 people allowed to attend each rehearsal. We cannot exceed this number and so it is essential that you book a place if you wish to attend.
---
STATEMENT UPDATE: 10/09/20
Yesterday's announcement by the Government that "Social gatherings above six people will be banned from 14th September" does not affect our plans to restart physical rehearsals for The Rogues Shanty Chorus.
The document that this Government update pertains to is: COVID-19: Guidance for the safe use of multi-purpose community facilities LINK
…and (in particular) Section 2a: Social distancing and capacity, paragraph 6: "Community facilities following COVID-19 secure guidelines can host more than 6 people in total, but no one should visit or socialise in a group of greater than 6."
Our risk assessment, social distance rules and various control measures still apply.
---
Please read "Control Measures" underneath this online booking form




BEFORE entering your details and clicking SUBMIT.
BOOK YOUR PLACE
…at our next practise session
---
CONTROL MEASURES
In addition to the Control Measures that the Seagull Theatre have implemented, The Rogues Shanty Chorus will be introducing the following additional measures.
We ask that you read through all of these prior to attending your first rehearsal.
---
WHAT RISK CATEGORY ARE YOU?
Prior to the first rehearsal you come to, please advise Stephen or Paul whether you are a:
High risk individual
Moderate risk individual
Low risk individual (those who do not fall within the high or moderate risk category)
LINK to definition of High and Moderate risk individuals HERE
Have you been shielding?
If Yes, has this been for you or because of somebody in your household or support bubble?
---
FOUR QUESTIONS:
Do you have any of these symptoms: elevated temperature (above 37.8°c), continuous cough, loss of smell and taste?
Have you been in close contact with someone with symptoms?
Have NHS Track & Trace contacted you and asked you to self-isolate?
Have you returned from abroad and been asked to self-isolate?
…If the answer to any of these is yes, you will need to stay away.
LINK to current guidance on self-isolation HERE
---
What you need to do…
PRIOR TO CHOIR:
Please bring your own lyrics to each session.
There is a link at the bottom this page to access our full repertoire and all songs. Please download and print any lyrics that you do not already have.
If you are unable to print lyrics at home, please let Stephen or Paul know – we can supply lyrics for you but will need to distribute them wearing gloves (in line with our COVID-19 risk assessment).
Please bring a mask with you and wear it for arrival and entry to The Seagull Theatre, during break-time, for toilet visits and when you leave. (We will not wear masks whilst singing).
If you cannot wear a mask due to a health condition, please advise Stephen or Paul.
No drinking water or hot drinks will be available at rehearsal – please bring your own bottle.
Please bring your own pen or pencil if you wish to make notes on your lyric sheets.
There will be eight chairs placed at ground level. If you have mobility issues and would like to reserve one of these, please contact Stephen or Paul.
If you have booked a place and find that you are unable to attend, please make sure that you contact Stephen or Paul so that your place can be made available for somebody else.
---
ARRIVING AT CHOIR:
Hand sanitising stations are placed at the entrance to the Seagull theatre – please use them upon arrival and after any visit to the toilets.
In order to encourage a staggered arrival, the theatre will be open from 7pm before the session starts at 7:30pm (as per our pre-COVID rehearsals). You are welcome to come between 7pm and 7:30pm and you are welcome to chat to people (please wear face masks and observe 2-metre social distance).
When entering the auditorium to take your seat, please be seated at whichever seat is available to sit on furthest away from the aisle (ie: please do not sit on seat#1 or seat#4 if seat#7 and seat#10 have not been taken as this will mean that people will have to pass you within the row unnecessarily).

Please deposit donations into the payment tub on the table inside the auditorium of the theatre. Please deposit the amount you want to donate (no change can be taken or given).

You may want to bring a coat or jumper along since we will have fire exits and doors open throughout the entire session.
---
WHILST AT CHOIR:
You may only sit in a chair which is marked according to our seating plan which allows for distance of 1-metre width and 3-metre depth. Please do not move or re-position any chairs or stools which are not fixed inside the theatre.
Singing may only happen whilst facing forward.
We will remove masks whilst rehearsing. (If you feel safer wearing a mask or face covering throughout the whole session including whilst singing, please do so).
Please try to avoid touching any shared surfaces. All chairs, door handles, toilets and touchpoints will be disinfected prior to and after rehearsal.
The Seagull theatre will be kept well ventilated with rear fire doors remaining open throughout the session.
Please keep any personal belongings (coat, handbags, etc) close to you – don't spread them out over any unused empty chairs.
To ensure that we keep as ventilated as we can, the sessions will comprise 2x 30-minutes of singing separated by a break-time.
During the break, please wear a mask and observe social distancing of 2-metres.
We will keep a register as part of the Track & Trace procedure for 21 days and then shred it. In addition to this, we are likely to take a photo at each session which will be used for us to determine the exact seating arrangements of all rehearsals.
---
AFTER CHOIR:
If you fall ill after attending a rehearsal, contact your GP to arrange to get tested for COVID and contact Stephen or Paul immediately.
If NHS Track & Trace contact you and ask you to self-isolate, please advise Stephen or Paul immediately.
---
SUGGEST AN ADDITIONAL CONTROL MEASURE:
---
COMPLIANCE:
The Rogues Shanty Chorus are a very friendly group and human beings are instinctively tactile and sociable creatures – we are all sure to have a very steep learning curve as we try and remain mindful and respectful of these Control Measures.
These measures are not something intended to embarrass anybody if we should breach them. We won't have an atmosphere of finger-pointing or whistle blowing if anybody accidentally forgets themselves momentarily and while getting accustomed to these procedures – we are likely to all need to encourage each other to build new habits.
However, in order to give confidence for people to return as well as to try and ensure the safety of all members, all attendees must be willing to comply with the measures above.
By booking a space and clicking SUBMIT, you confirm that you are willing to follow these steps.
---
YOUR DECISION:
Please make your own decision about whether you are happy to return – there is no pressure for you to do so if you have any health concerns about being in public.
The aim of these measures are to keep us all safe whilst singing together and to supply you with the information about how we will conduct our rehearsals so that you have the confidence to make an informed decision about whether it is appropriate for you to return to choir yet.
However, measures cannot reduce the risk to zero – if you book a space and click SUBMIT you confirm that you understand this.
---
CONTACT DETAILS:
Stephen 07909 510976
Paul 07903 105930
Email: ahoy@shanties.co.uk
---
SEATING PLAN: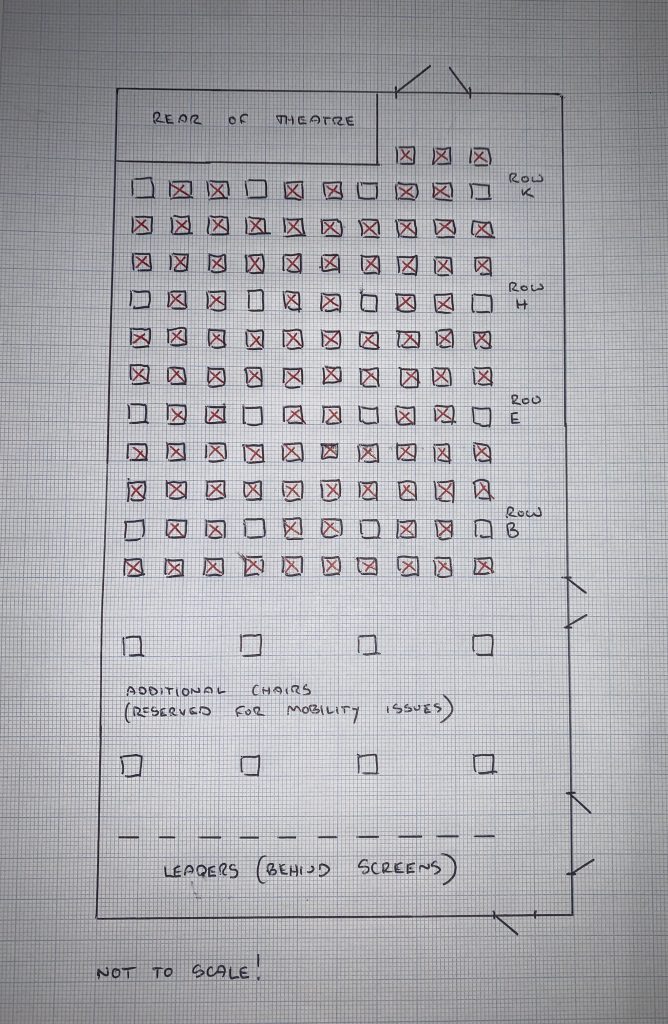 ---
FURTHER READING LINKS:
The Rogues Shanty Chorus COVID-19 Risk Assessment (we recommend you read this)
Local Coronavirus data HERE
Government guidance on local lockdowns HERE
DCMS Guidance document allowing choirs to restart HERE
---
---