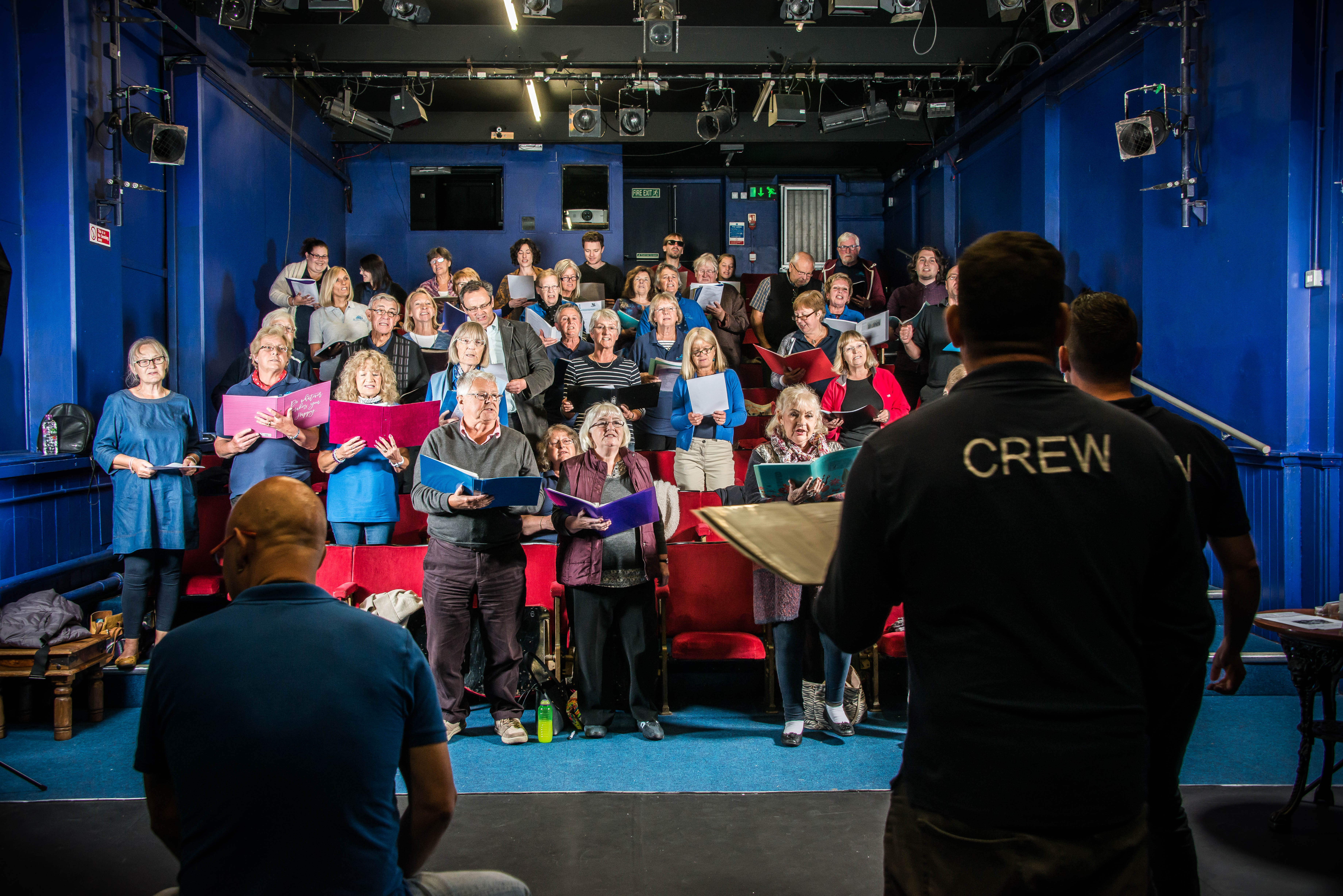 Our founders Stephen, Paul and Andy also run The Rogues Shanty Chorus.
…a unique choir who sing the songs of fishermen and sailors.
The group meet and sing within sight of the Suffolk shoreline, which allows our music an accompaniment of the sound of waves and the sea, with a base at the Seagull Theatre – the most easterly community theatre in the United Kingdom.
The Rogues Shanty Chorus celebrate the culture and legacy of local seafaring communities by reviving the folk music that they created in order to celebrate the musical heritage of the East Anglian coast.
The choir formed in 2015 as part of a broader coastal cultural and heritage community project designed and delivered by The Voice cLoud – a not for profit arts and music organisation run by Stephen and Paul. The aim of the choir was to explore the social and historical importance of the folk music and work songs created by the fishing and seafaring communities of Suffolk and East Anglia. The project also included school workshops, talks and demonstrations at WI groups, scouting/guiding and social groups and delivery of one-off music workshops among other activities and engaged with almost 2,000 participants.
The group are one of only a few shanty choirs in the UK (and as far as we are aware the only one free to attend) and promotes the social, health and wellbeing benefits of group singing whilst expanding the sharing of Lowestoft's unique coastal, cultural and musical heritage.
The Rogues Shanty Chorus are a committed and passionate group who work with and within the community, producing and performing sell-out theatre shows as well as arranging and curating performances for charity events and other groups and services; including at older people's residential homes; care groups, school fetes and local community events and fundraisers, including for RNLI and the Fishermen's Mission.
The Rogues sing sea shanties and arias about the sea as well as whaling songs, naval songs, working songs, foc'sle songs and romantic old century tunes of ne'er-do-wells, which includes refrains of seafarers, wreckers, smugglers and murder ballads.
If you would like to join the choir, please visit their Facebook page or get in touch for further information.
The Rogues Shanty Chorus dates for 2022
Tuesday 18th January, 7-9pm, The Seagull Theatre, Morton Road, Pakefield, NR33 0JH
Tuesday 1st February, 7-9pm, The Seagull Theatre, Morton Road, Pakefield, NR33 0JH
Tuesday 15th February, 7-9pm, The Seagull Theatre, Morton Road, Pakefield, NR33 0JH
Tuesday 1st March, 7-9pm, The Seagull Theatre, Morton Road, Pakefield, NR33 0JH
Tuesday 15th March, 7-9pm, The Seagull Theatre, Morton Road, Pakefield, NR33 0JH
Tuesday 29th March, 7-9pm, The Seagull Theatre, Morton Road, Pakefield, NR33 0JH
Tuesday 12th April, 7-9pm, The Seagull Theatre, Morton Road, Pakefield, NR33 0JH
Tuesday 26th April, 7-9pm, The Seagull Theatre, Morton Road, Pakefield, NR33 0JH
Tuesday 3rd May, 7-9pm, The Seagull Theatre, Morton Road, Pakefield, NR33 0JH
Tuesday 17th May, 7-9pm, The Seagull Theatre, Morton Road, Pakefield, NR33 0JH
Tuesday 31st May, 7-9pm, The Seagull Theatre, Morton Road, Pakefield, NR33 0JH
Tuesday 7th June, 7-9pm, The Seagull Theatre, Morton Road, Pakefield, NR33 0JH
Tuesday 21st June, 7-9pm, The Seagull Theatre, Morton Road, Pakefield, NR33 0JH
Tuesday 5th July, 7-9pm, The Seagull Theatre, Morton Road, Pakefield, NR33 0JH
Tuesday 19th July, 7-9pm, The Seagull Theatre, Morton Road, Pakefield, NR33 0JH
SUMMER BREAK